Product name:Manual Rotating Screen Printer
Model Number: RSP404
Description:
Manual Rotating Screen Printer
4 Color 4 Station Screen Press can apply 4 screens to 4 stations simultaneously. The printing layer and the screen layer and the pallet layer can rotate independently, which makes it easy for multi-color printing, material loading and unloading, finally brings more wide range, convenient and faster printing effect.
4 Color 4 Station Screen Press is the only the one and only double-rotary printing machine which adopts assembled instruction but still can guarantee the accuracy color registers of four colors in four stations. It has kept the common functions of the similar machines, such as double rotary of pallet layer and screen layer, high pulling intensity of double springs, height of pallet putting up and down, screen adjusted in all round, left and right location of screen frame support arm, etc. What's more, it has some special functions with human nature, overcoming the shortcomings of the traditional machines, which brings more relaxed, accurate but higher efficient printing effect. So it's the highest cost-performance screen printing machine during the screen presses with the same prices.
Special Features and Functions
1. This silk-screen printing press completely overcomesthe disadvantages of the same price similar appearance silk-screen printing press, which can only overprint accurately in one or two stations . Before delivery all the printing head support arms have been accurately adjusted, so it can realize four color accurate registers in four stations after installation and debugging. In other words, it can be applied into multi-color printing by multiple persons simulteneously. It's unaccomplishable for the other screen presses with the same prices.
2. Special design of spring devices in screen adjusting up and down makes it easies for the user operations according to the sizes and weight of the screens, which guarantees proper spring intensity to avoid squeegees expelling and inks splashing in higher intensity and screen unfixing because of higher weight of screen frames and squeegees in loose intensity.
3. Up-and-down adjustable (77-100cm) foundation can meets demands of people statures from 160-190cm. Height adjusting is easy but stable after adjusted. So it can guarantee the users to print in a proper height and relaxed posture under a more labor-saving and much more comfortable way.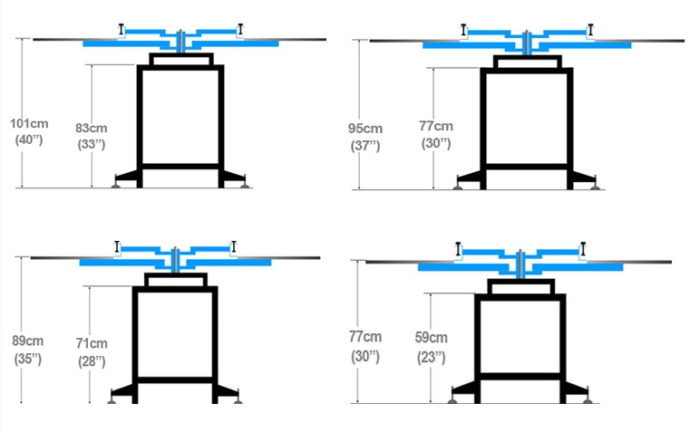 4. Fine adjustment device is easy operated but can mainly guarantee well appressing between screen and pallet, espeically for the slightly deformation screen frame or unsmooth contact surface between screen and pallet, which will bring better printing effect.
5. Double fix position device is an initiate design. The upper wheels blocks make it much easier for the pallet support to enter into the fixed position; The small bottom wheel blocks guarantee the accurate postion of the pallet support arm and color registers, which brings relaxed but much more accurate printing operation for the users.
6. Composite structure. It can be dismantled and packaged into 4 cartons, with total volume of only 0.30 cubic meters and each carton weight of basically within 30kg; so it can be easily carried and moved for an adult and even in a sallon car; Besides, we have supplied video instruciton for easy installations. Its convenient transportation and easy installation needn't speical transportation and handling tools, which will save much shipping cost; That's also an unique and unparalleled feature during the similar machines of accurate color registers.
7. Super big foundation and peculiar auxiliary balance foot stands keep it balanced and stable even the ground is not smooth.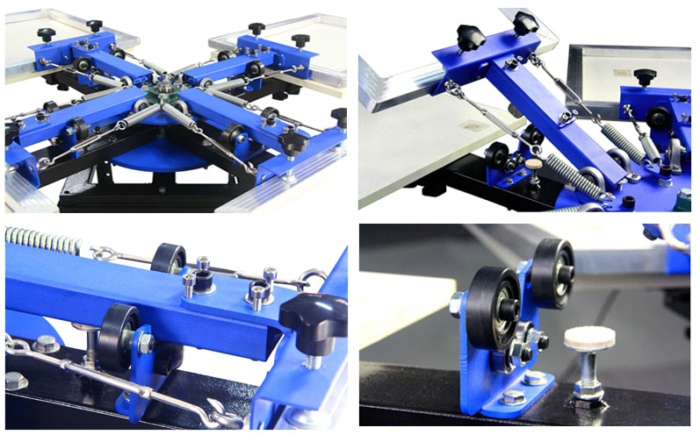 Main features:
1. This machine adopts full metal structure and all parts are stainless steel materials, which is in advanced electrostatic spraying, elegant appearance, convenient in cleaning and no rust.
2. Excellent packaging: with its composite structure, the whole equipment is dismantled into 4 cartons but well packaged. Inside the carton, all the parts are separated packaged by high-strength cystosepiment and with splint on the top and bottom; Outer carton, it adopts five-layer corrugated carton and stretchable film; which will furthest reduce damage during transportation and especially suitable for long-distance transportation and demands of export.
3. Equipped with installation video, manual instruction, full set installing and maintenance tools and spare parts.
Parameters
Foundation Size: 36"x36"x23"-32.5" (92cmx92cmx59cm-83cm)
Max frame size capacity: inner size 16"x20"(40cmx50cm)
Machine Size: 75"x75" (190x190cm)
Pallet Size: 17.7"x21.7" (45x55cm)
Net Weight: 185Lb (84kg)
Gross Weight: 209Lb (94.5kg)
Shipping Volume: 0.30 Cubic Meter
Packaged into 4 cartons
1# 81Lb (36.5kg) 23"x23"x13" (59x59x31cm)
2# 46Lb (21kg) 23"x16"x7.5" (59x39x19cm)
3# 40Lb (18kg) 24"x20"x9" (61x51x22cm)
4# 42Lb (19kg) 32"x23"x6.3" (81x58x16cm)