Product name:Manual Vacuum Screen Printing Machine
Model Number: RSP-101V
Description:
Manual Vacuum Screen Printing Machine
Overprint is a significant feature
The significant feature brings it wide applications, such as T-shirts, pillowcases, non-woven bags, etc.
Overprinting substrates onto the platen can avoid ink leakage and bleeding if printing overlap, which will guarantee the printing quality.
Parameter:
Equipped three pallets and easily screwing two bolts to replace the pallets.
Vacuum Plate Size: 23.6"x17.7"x1.7" (600x450x41mm)
Two High-density Composite Plates Size:
17.3"x12.6"x0.7"(440x320x18mm)
11.8"x9.4"x0.7" (300x240x18mm)
Net weight: 99Lb (45kg)
Based on the customers and market, our company two kinds of multi-functional vacuum screen presses, which have overcome shortages from traditional ones, such as without micro-devices and can not put on the T-shirt, pillow, bag and so on.
Our specially designed multi-functional vacuum screen pressed have kept the functions of the traditional, such as big attractive force and good positioning to the relatively thin substrates, such as paper, paperboard, plastic film, etc. Frame clips are flexible to suit frames of different sizes; three-dimensional adjustments and so on. Besides, they have some other special features.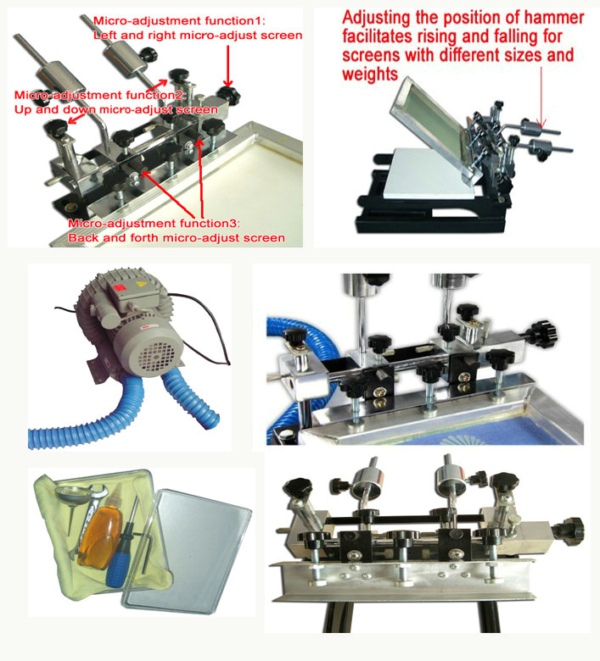 Main Features
1.All-around micro-devices and lock device
Micro-device makes screen and shirt board joint evenly, micro-device up and down with different substrates, also for left and right, back and forth, which ensures the precision of printing.
The lock devices can make every part stable and it also ensures the precision of printing.
The best application for these 1-1 flatbed screen press is to get halftone effect.
Using this micro device, professional printer also can use these press to apply multi-color printing.
2.With two assistive hammers
Adjusting the position of hammers facilitates rising and falling for screen with different sizes and weights.
3.Utilizing electrostatic spraying and electroplating, durable, easy clear, no rust.
4.The equipped high intensity PVC board is waterproofing, cutting and friction resisting, non-deforming, which guarantee a long lifespan.
Its holes on the printing bedplate is 1.0mm (normally 1.5mm) in diameter, 2cm in separation distance, which guarantees more even inhaling and also improve the printing quality.
There are longitudinal and transverse scale on bedplate, which helps place substrates on the right location.
5.Their air pumps are separated from the main printing equipment, so they can be placed freely, which avoid unsatisfactory printing effects caused by pump shaking.
The air pump is equipped with a 2 meters admission pipe (connecting bedplate and air pump) and a 2 meters freeing pipe (connecting pump to outdoor).
Users can adjust the distance between the air pump and the screen printing machine according to the working environment.
Putting the end of the freeing pipe to the outdoor can reduce dust affection and air flowing to the substrates caused by air exhausting in the indoor environment.
6.Detachable: All of our equipments are detachable. The vacuum screen press are of two cartons split sub-package, which is convenient for shipping.
Equipped with a full set of installing tools and auxiliary maintaining equipments, instructions and videos, so it's easy fro well installation and maintenance.
Utilizing electrostatic spraying and electroplating, durable, easy clear, no rust.
This screen press combines vacuum printing and overprint function. It can not only print on cardboard, adhesive stickers, transferring paper, plastic chip (film), PCB, etc, but also particularly suitable for other things of different sizes which need overprinting, such as paper sack, plastic bag, T-shirt, cushion, headrest, non-woven shopping bag and so on.
This equipment includes the main printing device, air pump, three platens, installing and maintaining materials.