Product name:2 Color 1 Station Flash Dryer Screen Press
Model Number: RSP-102FD110V
Description:
2 Color 1 Station Flash Dryer Screen Press is newly R&D by our company, it is two color overprintable and there is a infrared flash dryer between the two arms, it will be so convenient for you to print and dry now, the flash dryer is also rotary and no need for an extra flash dryer anymore, save you so much money and improve your efficiency at the same time! This is really a good news for screen printing industry!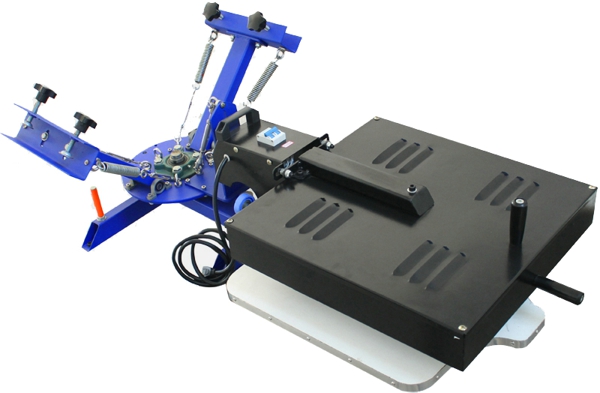 Applications
They can print onto clothing (especially for T-shirt), woven fabric, metal, paper, copybook, plastic, circuit board, wood, glass, ceramic tile, leather and other plane printing substrates, which is especially suitable for small businesses and individual printing shop.
Parameters
Heating Tubes:Far-Infared heating tubes
Voltage:110V/60HZ
Power:1600W
Height adjustable range for the screen frame clamp:
0.8" / 2cm.
Height adjustable range of the dryer head: 5.5"/14cm.
Platen size: 21.7*17.7" (55*45cm)
Drying Area: 15.7*15.7" (40*40cm)
Packing Amount: 2 Cartons
Total Shipping Weight: 88Lb (40kg)
Carton one is 60Lb/27kg and carton two is 29Lb/13kg.
Package sizes:
22"*12"*25"(57*32*62cm)
28"*8"*25"(72*19*49cm)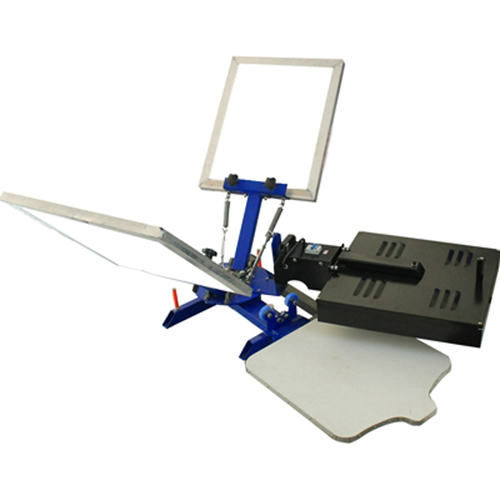 Features & Advantages
Easy operation but with high efficiency as the screen printing platen layer can rotate independently & the drying box has been installed.
The dryer is easy operated, energy & cost saving but with higher efficiency. After printed, move the dryer above the pallet, just open the switch, it will dry automatically; if you don't need it to dry, just turn off the switch, that's ok.
Table type and combinatorial design saves place and convenient for transportation.
The pallet is high temperature & corrosion resistant, easy cleaning and no deformation as its edges are fixed by aluminum alloy materials. Besides, its surface is a little rough for applying the pallet adhesive for positioning.
Special design of spring devices in screen adjusting up and down makes it easier for the user operations according to the sizes and weight of the screens, which guarantees proper spring intensity to avoid squeegees expelling and inks splashing in higher intensity and screen unfixing because of higher weight of screen frames and squeegees in loose intensity.
All-metal construction, advanced electrostatic spraying and electroplating, durable, easy to clear and no rust.
Equipped with full set of installing tools, manual instruction and videos..
Excellent packaging: All our equipments are perfectly packaged by high-strength five-layer corrugated carton, inside with standard soft and hard foam and three-ply board, all metal parts are separately packaged, which guarantees product safety during transportation.