Product name:Large Size Curved Screen Printer
Model Number: 1100
Large Size Curved Screen Printer
Specifications:
1:Max.printing size:φ330x350mm 
2:Max.Frame Size:1180*380mm 
3:Machine size(LxWxH):1730x1250x1730mm 
4:Net Weight:290kg 
5:Air Pressure(bar):5-7 
6:Power: 220V/50Hz 110V/60HZ, 60W
7.Max product arc length:1170mm
8.Max printing speed:800Pcs/Hr
9.Packing size: 186*105*190CM(LxWxH)
10.Gross/Net weight:700kg/600kg
11.Volume Weight:745KG
Advantages:
1.Microprocessor controls each function with high automation and easy operation;
2.5 digit auto counter built in;
3.It has function of cylindrical printing and conical printing;
4.Auto ink scraping and flooding and worktable elevating make operation easy and ensure stable printing quality;
5.printing stroke and speed are adjustable to meet different printing requirements;
6.Auto balanced squeegee ensures equalized printing pressure;
7.Worktable can be adjustable up/down,left/right and rotated slightly. Screen frame can be finely adjusted forward/backward, left/right and up/down. Printing precision is high and adjustment easy;
8.Squeegee can be finely adjusted left/right.Substrate alignment is quick and precise;
9.Safety hood is equipped to meet European safety standard and ensure safety.
10. Pneumatic part of the installation of the German "FESTO" Parts,Separate adjustment speed.
Machine Fittings:
1. One frame,
2. One tool box,
3. 1 inch squeegee.
4. One fixture.
Application Scope:
1100 Screen Printing Machine, which is fit for printing on the big diameter round products such as paint and water buckets etc.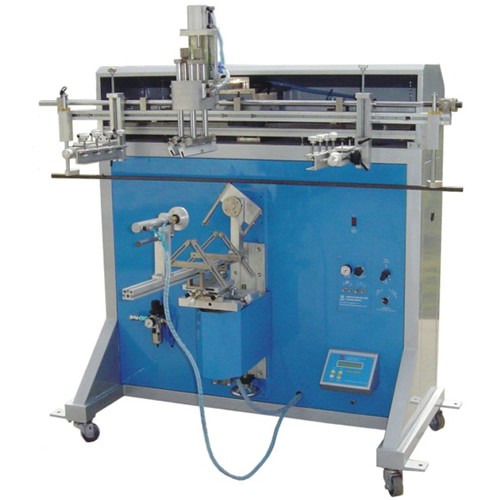 Printing Samples: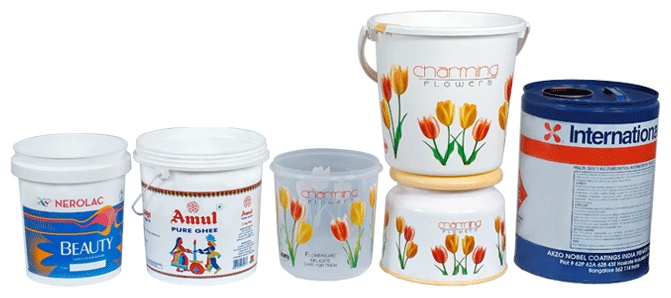 Machine Details: